Thank you for your purchase!
Remote Employee Blueprint
A 100+ Page eBook Guide
This is an Up to The Minute Practical Guide written specifically for Small and Medium Businesses who want to Set-Up and Manage a Remote Staff. It also applies to anyone who wants to be successful in a remote (work at home) working environment. Everything from Video Conferencing and Business Information Security, to Employee Monitoring and Remote Worker Conduct is covered.
Class aptent taciti sociosqu ad litora torquent per conubia nostra, per inceptos
A succinct outline of the Exact Steps, Tools and Proven Best Practices to help any business (or employee) institute remote working. Covering everything from Leadership Commitments to the Resources Required.
This At a Glance Check-List Overview gives quick control over the process of setting up and instituting a remote working environment for Any Size Staff.
5 Page Worksheet
 that Employers Personalize Per Project
DFY Team Commitment Document will help define the points that the staff has agreed upon within the scope of the project(s) that need to be addressed. Covering elements like; Commitment & Code of Conduct, Information Sharing, Resource Access and Team Meetings.

Worksheet styling can be signed as a visual agreement between the business and its staff.
Over 70 Links and Vital Businesses References
A  4 Page Resource of over 70 Links covering the current tools, platforms and services that apply – Everything from Web / Video Conferencing Tools, Cloud Storage Providers (File Sharing and Access), Project / Task Management Tools, VPN Clients for Business, Time Logging / Invoicing Tools.
Drill Down Detail with Resources to Accomplish Set-Up
THREE Complete Mind Map Lay-Outs of all the elements proven to create a successful remote working environment – Each individual Mind-Map Covers the separate Foundational Aspects; Information, Collaboration and Communication.

Detailing the main categories and drill-down aspects of a functional remote workplace.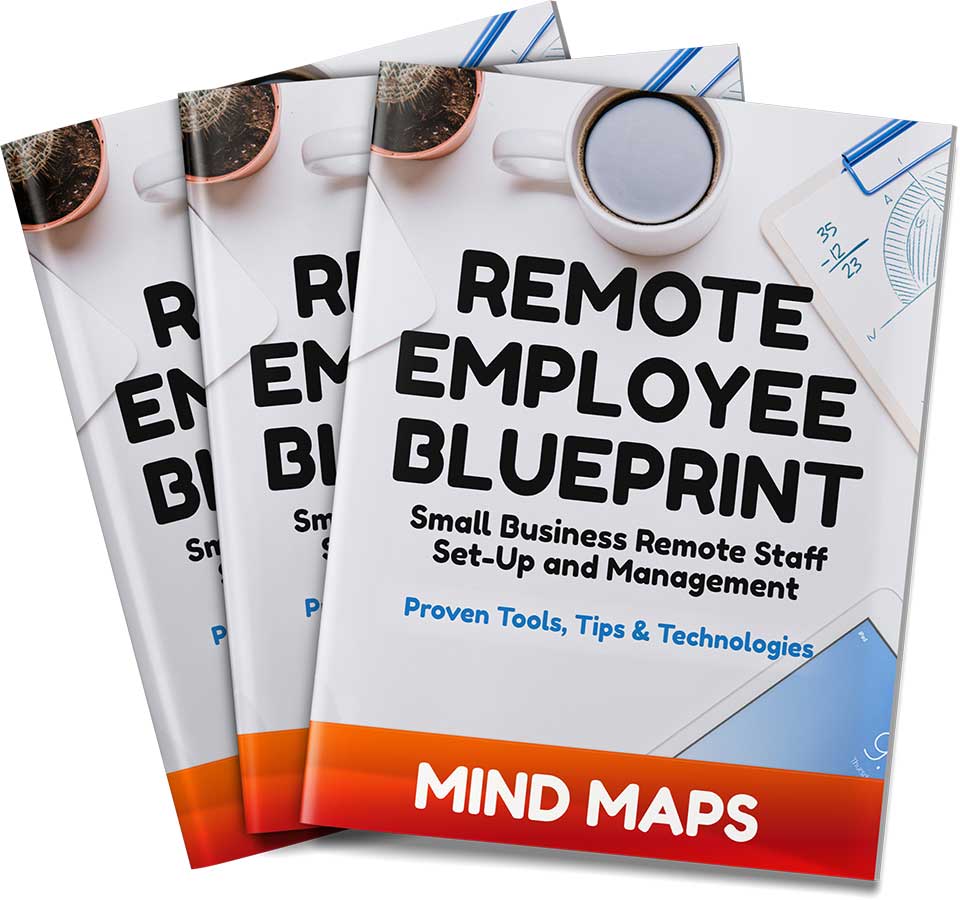 More Productivity with your Remote Employees
This Is The Easiest Way To Navigate The Remote Working  Landscape